Do you know the feeling that if you don't change anything in your life NOW, you will never do? That if you fail to meet this dream you will fail all the others as well? It's NOW or NEVER! It is the time to get out of the imaginary box called  'safety' and take the road…
In the fall of 2011, I was literally being eaten alive by that feeling. The winter came, streets of our town were quite bleak and hostile and this feeling began to enter my heart. What if I stay here forever, stuck with only two-weeks holidays and dreams of another life…
When did it all start?
I have always dreamed of travelling and living in other countries, I love learning about other cultures and other countries. I love those horizons which other country opens. But older I got I began to be rather frustrated by travelling. When my firstborn daughter was six months old in 2007 we went for a week to Gran Canaria in the middle of that winter. Then for the first time in my life, I felt like that one week was damn little.
I thought that while I was spending the whole winter in the town of Ostrava's smog there were the same people like me living their ordinary lives here as well… why couldn't I live here, too?
Since then the dream had remained seated in my mind and it had taken a few years before I got to cross many limits of my comfort zones until the day I could know that it was NOW or NEVER.
The day, when I told myself NOW or NEVER
That day my sister was leaving to Belgium to fulfil her dreams (in the end she stayed there J). And I was thinking what I had missed in my life and that it was a  pity that I wouldn't just go somewhere for a year like that…Two kids in joint custody, an insecure financial situation, social norms which said that this shouldn't be done anymore in my age!
And then the voice whispering inside said: "If you don't fulfil this dream, you won't fulfil any other dream. Now it is your time. Either you do something or you stay in your box forever."
It was knocking in my head for a few days… And then the day when we went to see my sister in Belgium I announced to my boyfriend Jirka that we were going to Spain for half a year.
How could I dare? Am I going crazy?
While my boyfriend who had been working for a few years as a specialist in online marketing, working from home and dependent only on the Internet connection immediately told me that it was a great idea, the rest of my wider family and friends didn't have such a positive reaction.
Did you really think it through? (Those were these more restrained.) Are you going crazy? What a crazy idea is that? (Those were these radical ones.) You should have done that when you were 20, not now. And what about the poor kids? Will you drag them across half of the Europe once a month because of the joint custody? And it will be terribly expensive!
Yes, I got crazy! I packed my cases, kids, hamsters and we set off…
Owing to fact that I had also worked as a specialist in online marketing I knew that I could theoretically work from anywhere, fear of work and money didn't paralyse me. Spain is a country with a similar price level as the Czech Republic. The problem was indeed in paying two apartments and plane tickets to the Czech Republic every month but I decided to deal with details as they would go along…
"When you want something, all the Universe conspires in helping you to achieve it" (Paulo Coelho)
And so we left 3rd February with a fully loaded car that carried suitcases, toys, blankets, bicycles, skates, notebooks and hamsters, the direction Murcia. It was minus 17°C outside and the car barely started up… 36 hours later it was plus 12°C outside, 5:30 am. The sun was rising from the Mediterranean sea and I was driving the last 100 km of our trip…
How does it feel when you are fulfilling your dream?
The sun was rising and oranges along the road were ripening, Jirka was sleeping next to me and I felt incredible GRATITUDE. Gratitude towards myself that I had managed to decide and go for that. Gratitude to the world that would hold me on that journey. Gratitude that my profession was online marketing and that I could work from anywhere. Gratitude that I could take my kids out of the terrible smog and show them the world. Gratitude for the fact that I didn´t stay only in dreams…
Gratitude guided me also through following months. I was realising more and more strongly how important it was to thank myself and the world. How important was to realise that all those things were not for granted. Even though those people who were living their lives at that place were thinking, that it was not much and dreamed of other countries and other journeys.
The grass is always greener on the other side of the fence.  (The landlady of my sister's flat, Belgium)
I even realised that that gratitude could guide me everywhere else and that the power that I had become aware of inside of myself by doing that big step, that it was inside me and would help me to fulfil my other dreams.
How did it go financially?
At first not so well, business was working as it had been working a  few months ago but expenses increased so I needed to raise my income.
I was looking for ways to improve what I was doing. I was learning new information about online marketing and because we had already been using an application called SmartEmailing for our email marketing for a few months at that time, I received an invitation to the  EmailAcademy Program to my email. It was the time when I was strongly considering the fact that I needed to increase my income otherwise I wouldn't be able to make it in Spain.
After watching the video from EmailAcademy Online Training I wrote to the author David Kirs that it was great. We had been already doing the same in our company for a few years and that if I could, I would continue sharing that with our clients… And he wrote to me back, why wouldn´t  I join his affiliate program?
AHA!
So I did and because the ways of online marketing were familiar to me and affiliate is just about online marketing, I was relatively successful. Life passed me an opportunity and I took it and earned an unexpected amount of money that covered my costs for Spain. The same happened a few months later with his another online training when I was studying affiliate marketing for the whole month to get among  TOP partners and tune my skills.
And then Beach Business…
Suddenly I could experience that I was really sitting on the terrace of our house or on the beach, downloaded e-mails into my phone and receiving several order confirmations. I was just lying on the beach while I was making money.
I suddenly knew that my profession is just amazing! That thanks to that job I can literally or figuratively do business from the beach. Beach Business doesn´t mean lying down somewhere while someone else is working for you.
It is about FREEDOM …
Freedom to do what I like,
Freedom to work from a place that is amazing,
Freedom to work with people that I like,
Freedom to work in the way that suits me,
Freedom to work when I feel like it…
Freedom to earn so much money to live according to my own ideas
And so the journey to the beach was finally also the journey to what I  have been doing until today…To the decision to write my eBook  'How to write an eBook in 14 days' and start writing my blog, pass on my know-how further to people, show people that we can live our life according to our image.
The path to the beach eventually led me to show the way to the others.
Because Beach Business is great and I have found out that if you really wish for it, you just need to decide and start your journey! And to solve problems when they really come, not theoretically and hypothetically months before you actually start the action!
And what about my children and my family?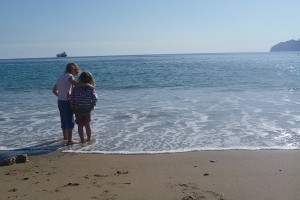 When I went for the kids after two weeks of settling down, it was a hard winter in the Czech Republic. It was not possible to go out much because there was the worst possible air so my kids were spending their days between their kindergarten and home.
They were excited about Spain from the first day. We went cycling, visiting children playgrounds. They very quickly understood that children there speak differently and that they had to try to understand them somehow. A few English words in combination with Spanish and new friendships were created. It spread their horizons, they found out that people live differently elsewhere and it is their choice what they will decide for in their future. I can see the half a year
It spread their horizons, they found out that people live differently elsewhere and it is their choice what they will decide for in their future. I can see the half a year was very beneficial for their development and their health and last but not least also for our relationship.
No kindergarten, all days together and suddenly we had to learn how to work and learn new things together. I suddenly had a lot of space for showing them the world because circumstances just led me into it. Suddenly, the excuse "I have too much work" didn't work because they were there and I had to find entertainment for them. And so we found it by learning new things, discovering nature and sea, we had a lot of time for our joint creating… We spent the time together to the fullest! On the other hand, during those weeks when they were in the Czech Republic with their Daddy, I could dedicate all my time to my work.
And the family? Some of them have also decided to be inspired and to step out of their comfort zones. And friends? The best friends visited us and were excited. Moreover, we have gained many new friends, both in Spain, and thanks to new online activities and opportunities which have come along the way. Thank you!
Thank you!
And what about you?
If it touches you, start your journey towards your dreams. It doesn't necessarily have to be travelling. Someone has dreams about a new house, a new partner or a new job… And they are just simply afraid of leaving their certainty. If you loose your certainty you will find out, that you will not have lost anything!
If it doesn't touch you, that's fine. You will just stay where you are. And if you are ok with that, then it's alright.
– Your Stania