How are dreams born? Sometimes the same way as our was. At the beginning of 2017, I was browsing through a magazine and I came across a picture, which looked like a scene from a movie. There were ancient temples and hot air balloons soaring above them. 😊
Where is it? I need to see this! Burma? Where is that? I was circling my finger around the globe and on the map searching where this extraordinary place was.
Till then, I only had a blurry idea about this country and after some time I was also worried that we wouldn't be able to make it without a tour guide and I felt there was no point going to such a country then.
One year later, we set off on the adventurous journey. On our own, no guide, only tips we found on the internet and on Instagram of our friends' travellers. We had originally planned 7-10 days, in the end, we stayed 17. :D
The hot air balloons above Bagan were only the icing on the cake of the Burma experiences and one picture in a magazine opened door to the country which deeply touched my heart.
Are you planning a journey to Burma – Myanmar too? Or do you just want to get inspired and dream? In this article you can find:
Burma or Myanmar
The original name of the country is Burma and most of the people call themselves Burmese. The change occured in 1989 due to the decision of military regime. I mosty use the name Burma in the post, but the official name is Myanmar.
1. Burmese travelogue, what was our Burmese andventure like and what is definitely worth seing
Our journey through Burma started in Yangon
We arrived in Burma while travelling around South Asia from Singapur and landed in Yangon, which is quite a large city in the south part of the country with a modern international airport. A city where modern world blends together with traditions. Shopping malls like in Europe in the middle of typical Asian streets with the sign of colonialism.
The air temperature was 37°C at the end of February… It was a bit of a shock for us so we spent the first afternoon in Burma at the hotel's pool getting used to the local climate. Surprisingly it wasn't so bad and we got used to it very quickly. :)
Yangon offers a wide range of accommodation options from the very cheap places to the luxury ones. We stayed in a newly opened hotel Pan Pacific in the middle of the city.
Our first steps lead us to… well, I will tell the truth. :D Our first steps lead to the market. In the middle of the town, there is a typical and very famous market called Bogyoke Market, visited by the locals as well as the tourists and you can find a big range of souvenirs here.
I went clothes shopping. When I want to fully experience the place, dive into it, I like to wear local clothes. I can't imagine wearing a mini skirt in the streets of Dubai, I enjoyed a long dress and high heels there.
On the contrary, in Bali, I was riding a motorbike in the crop top with no make-up on. In Florida, I was wearing Capri jeans and old loose T-shirt (America😂).
And in Barma, I felt very feminine and immersed in the depth of traditions and myself and I dressed in the local traditional longyi. The only issue was I couldn't decide the colour… so I bought four. :D :D :D
I was quite surprised that the shop assistant only sold me a piece of fabric… But a moment later, she was guiding me upstairs one floor above the part of the Bogyoke Market, where a group of girls sewed me skirts from these fabrics within about ten minutes and I paid just over 1 Euro for it…
When the temperature started to drop down to thirty, we set off to have a wander around the most visited place in the city, which is Schwedagon Pagoda. They say that there is more gold on the building than in all British banks together.
Tip
If you are going to Burma, remember you need to be appropriately dressed around pagodas and other religious places. Shorts or short skirts under the knees, covered shoulders and back and definitely not any vests and big necklines. It is good to aproach these places not just as a tourist but to take into account the traditions of the local people. :)
The atmosphere around Schwedagon Pagoda was kind of strangely chaotic. We are used to Buddhistic stupas, were you go around in one direction and you spin the prayer wheels and sooner or later one goes into meditation together with the other walkers.
Here we have experienced more of a socially relaxed atmosphere, people were walking around in all directions, some were praying in dozens of places, that were there; there was a mantra playing, bells ringing…
One of the other places that are worth visiting is the local lying Budha – Chauk-Htat-Gyi Buddha Temple. He is probably even bigger than the one in Bangkok and we haven't met a single tourist there. And there was a movie-like view overlooking the city nearby bordering with the wild nature as well.
Tip
We had mainly been using the service Uber around Yangon, which works here similarly like in any other big city in the World and it is good as you avoid any misunderstanding, because you choose exactly where you want to in the app and the driver takes you there and you know exactly how much you are going to pay beforehand.

We have set up the card for payments in the Uber app, so we don't need to bother with paying to the taxi driver. We just set the place and the payment is made automatically when we get there.
Yangon bears big signs of a British colonialism and if you want to fully experience it, you have to go to Strand hotel for a high tea.
When you walk through the door, you go back in time to the period of Kipling or Willy Fog.. The atmosphere of the hotel's cafe is also fine-tuned with periodical photographs on the walls, which bring you even closer to these times.
If you like to enjoy a bit of luxury, the afternoon tea in this Strand hotel is definitely worth it.
And we continue to Inle Lake
After two days in Yangon, we moved to another place, which you have to see and experience if you get to travel around Burma. :) And the place is Inle Lake.
We left Yangon and laned at the airport in Heho, where we arranged a transport by taxi for all the way to the lake. We paid for one hour journey to the Inle Lake by car about 40 000 Kyats (25 Euro) and on the way back, we agreed with the taxi driver on 35 000 Kyats (21 Euro), because he didn't have to pay a provision to the airport agent.
When you want to enter the Inle Lake location, take into account you need to pay 15 500 Kyats tourist fee for an adult, which is about 8 EUR. 
The location is tourist friendly and it only started to be tourist-ready about seven years ago. But the foreigners probably don't know much about it. So we were almost alone in a beautiful and new hotel.
The first day, we have hired a boat with a man, who couldn't speak a word in English, but he gave us a proper drive around.
I got really touched. I felt like in a documentary movie, thrown into the total authenticity of the environment I wasn't even able to imagine till then.
People living in the houses on poles on the edge of the lake with no access to tap water, limited source of energy, nevertheless, kind and hardworking. I felt such a humbleness towards life, and towards in what conditions people manage to live using the conditions to the maximum.
And at the same time, I realized in what abundance and wealth we live here in Europe and maybe for the first time on my travels, I felt like buying the crafts and "souvenirs" from these people to support them and thank them for the chance to share a small part of my life with theirs.
The houses on poles create whole villages on Inle Lake. Their owners don't walk a lot… they don't have where to go. They have to use boats for transport. You see women washing their hair in the lake, washing clothes, boys playing and fishermen setting off on the evening hunt. Markets, gardens, everything floating. Completely different world.
– "How many children do you usually have here:"
– "More is better. There are more workers in the family then."
In this silver production manufacture on the picture below, we immediately understood the meaning of it. The whole family participated in the silver jewellery production, from the silver extraction from a stone to the beautiful traditional earings. :) The woman is holding the stone which the boy on the right extracts the silver from.
The traditional craft on the Inle Lake is weaving. Cotton, silk and even lotus fibre, these are the materials that create beautiful woven fabrics, they are mostly used for traditional dresses, fine skirts but also scarfs or monk's robes. Yuri immediately joined in the manufacturing. :D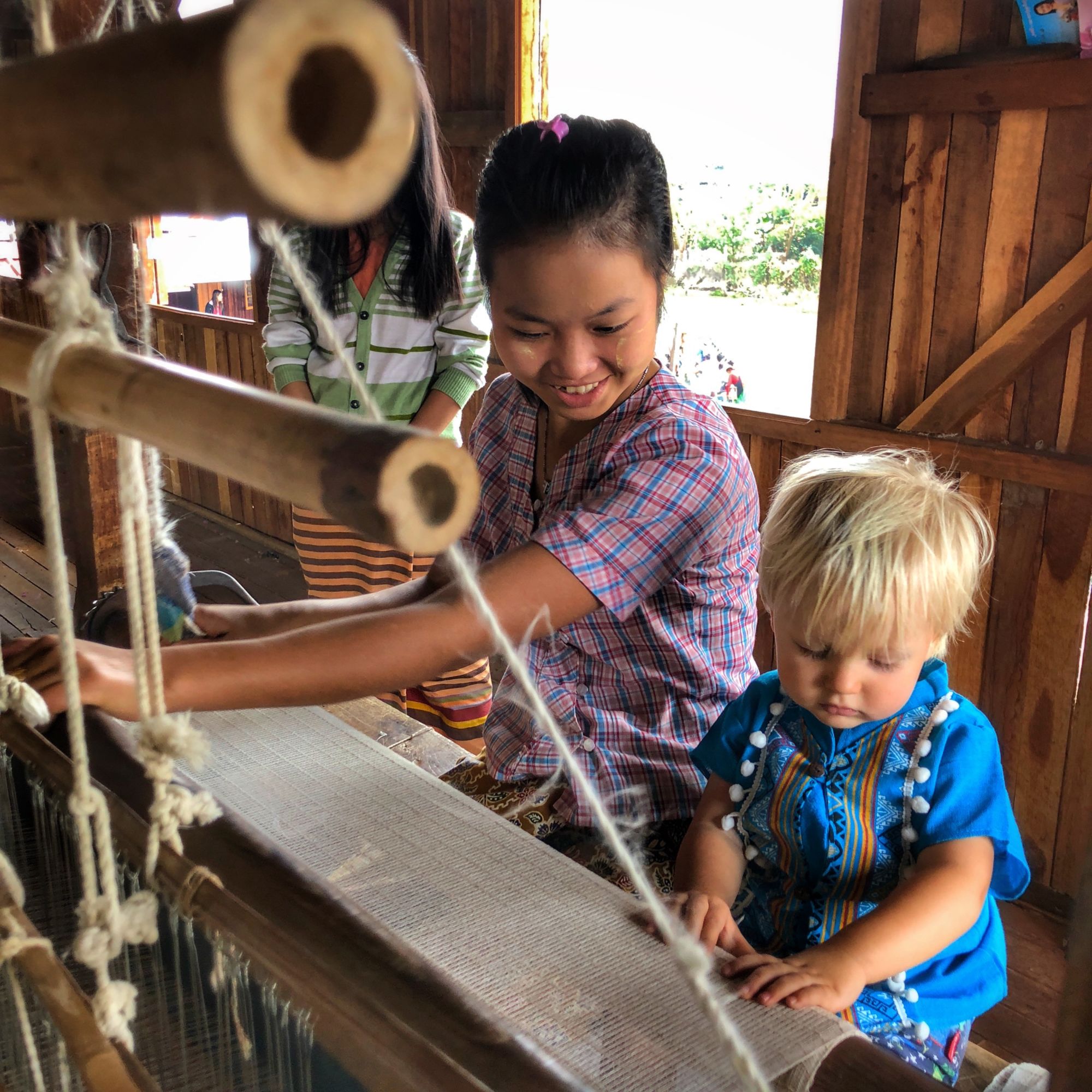 Women from the mountain area of state Shan weaved fabrics in one of the manufactures. This area is basically inaccessible for tourists so this is probably the only place where you can see the long-necked women from the tribe Padaung.
There are many explanations for this traditional decoration. One of them is that there are tigers in this area, that like to bite peoples necks. So this is the protection that girls get since they are nine and it weights altogether eight kilos.
So many countries, so many customs, and so different ideal of beauty we have. One is even more grateful for where he was born. :)
There are a few recent restaurants for tourists on Inle Lake, so we hired a boat to get us to one of them and we had a traditional food. In the picture below, you can see steamed rice with vegetables and chicken wrapped in the lotus leaf.
I would have never thought that a lotus plant can be utilized in so many ways. We usually know just the pretty and visible part – the blossom itself, which people traditionally bring to the temples. But what I didn't know was that silk-like fibres are made from the stems, which are used for making luxurious fabrics and the leaves are used in the kitchen for a pleasantly aromatic food flavouring.
As much as the locals were exotic to us, we were totaly exotic to them. To see a blond blue-eyed child was so fascinating for most of the locals as their Asian children were for us.
So we were, as usual, in the centre of attention and the object for cameras and phones of locals. The smiles and excitement, that one child can evoke in one day were countless, I would say dozens.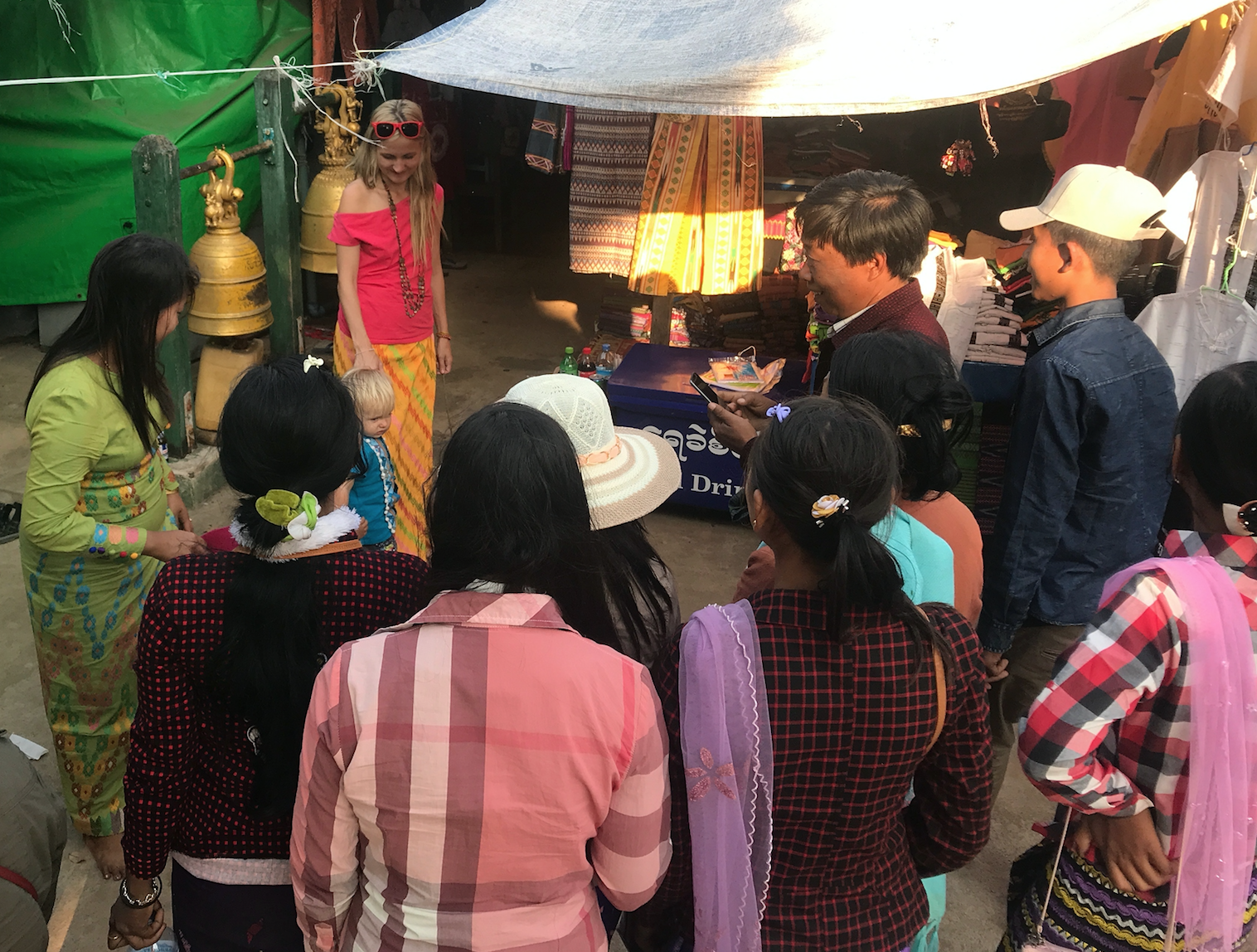 The second day on Inle Lake, we went to explore the opposite bank. We hired a boat across the lake to a village, from where we wanted to get to the Khaung Daing hot springs, which were about one kilometre away and to the local pagoda on the hill.
It was so hot and we basically didn't have a clue where to go. But my husband arranged everything with a bunch of Burmese guys by the road and before I blinked the eye, I was sitting on the motorbike and carried to the desired destination. I was a bit scared sitting with Yuri on the bike behind a total stranger. Nevertheless, we understood very quickly that there is nothing to worry about in Burma.
The locals are very kind and if they can help, they happily do it. A young Burmese boy dropped me off at the hot springs and went back to get my husband. And this was a really big help in the scorching heat.
First, we went to visit the local pagoda and had a look around, and then we went to have a look at the hot springs, which were pretty hot. :) The interested atmosphere was complemented by oxen ploughing the soil and tractors in the background.
By the way, we forgot Yuri's shoes by the hot springs, because we forgot to put them on him after I tied him in the sling, we forgot to have a look around before we left…
We realized one hour later on the boat on the other side of the lake. It would probably be no difficulty to buy new shoes for an adult, but it wasn't the case of a two-year-old, so we had no other choice than send somebody back to the hot springs to get us the shoes, which cost basically the same as the new shoes … :D (20 USD), but the shoes were saved. :D
We set off on the lake once again in the evening to watch closely the local fishermen.
It fascinates me, how creative people are, how they create improvements and procedures in every environment…
Inle Lake is large but quite shallow. And the local fishermen catch the fish into special nets in the shape of a bell. And in order to see the fish, they need to stand up, so they paddle with their feet! 😀 It's quite unique.
Balloons above Bagan
After three days, we moved from Inle Lake back to the Heho airport and from here we flew to Bagan, to the Nyaung-U airport. You need to pay a tourist fee about 25 000 Kyats for 7 days right after landing (approx. 15 Euro). You get an entry card you need to keep with you when exploring Bagan.
Bagan is an ancient town in Burma, where there are over 2000 mostly uninhabited and deserted temples and pagodas on 100 km2 that are attracting for exploring and discovering. This is something for adventurers! I was totaly excited and in my element.
I can't remember the last time something was so intensively dragging me out of bed at 6 AM like the desire to explore this over thousand years old town with its unique energy and see the rays of the rising sun mirroring in the ancient temples with balloons floating above them.
Tip
You can explore Bagan in different wys. Some people use carriages with horses and guides, some even cars. But if you want to experience the proper adventure, rent an electric scooter. They rent them basically at every hotel or in front of the hotels on the street.

The ideal time for exploring Bagan is early morning between 7 and 9 and then in the evening from 16.30 to the sundown. Moreover I got an impression that we had managed to avoid most of the tourists due to these times and were around pagodas and temples basically on our own, and were meeting mainly locals at the large pagodas.
Every pagoda or temple was different, there were different statues of Budha; in some of them, there were ancient paintings from the 12th century picturing everyday life of Burmese and pictures from Budha's life.
Tiny sun rays are shining through small windows, it's quiet, hot and you are entering the place with bated breath. What will you discover? Won't you step on a snake? … :D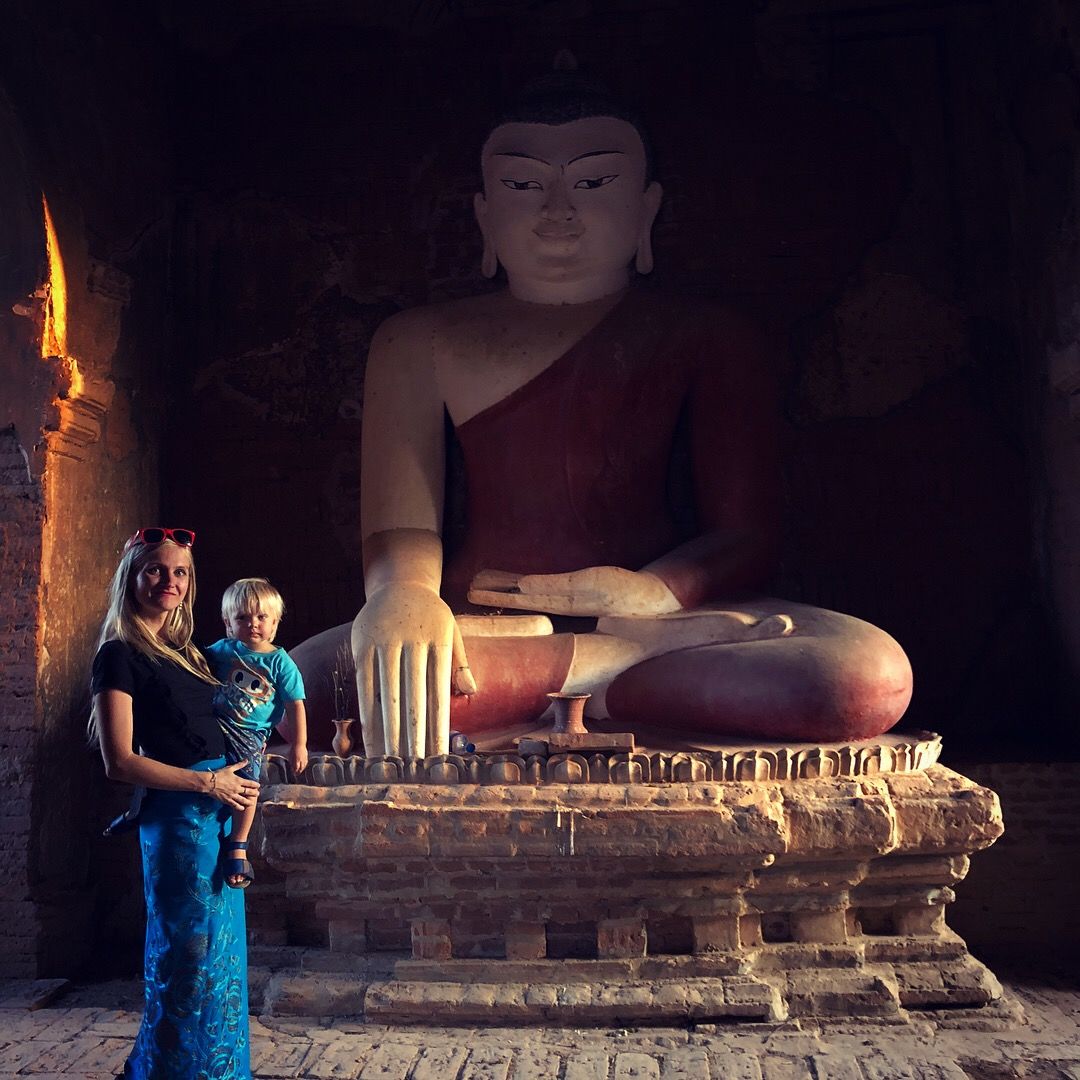 If there is any destination in Burma which is attractive for tourists, it's Bagan. Despite this, we haven't felt it was overcrowded.
We met a couple of tourists on the motorbike or in the traffic every now and then, but we usually met dozens of locals at the big main temples, maybe even hundreds, but if we wanted to see a nice sunset, we could find places where we were basically alone.
When you set off to the temples and pagodas at about 17-18 o'clock in the evening, you meet mostly just locals. People living in Myanmar are mainly Buddhists and Bagan's pagodas often hide Budha statues inside in different positions and versions.
A quick note about culture
You will definitely notice that the locals venerate three times before entering pagodas or other sacral places. Burmese do it the way that they touch their forehead, their mounth, heart and then they touch the floor with their forehead and they repeat this three times.

If you want to experience their culture into a greater depth, try it too. Don't be affraid to be embarrasing. :) 99% of people around you will be locas who find it weird if you don't do so.

We Europeans find venerating strange. We connect it to some kind of submisivity and woshiping, and even worshiping something supernatural. But don't look for such emotions in venerating in Budhism.

Buddhists don't venerate to Budha, they venerate to express their meekness to wisdom we all carry inside of us. By venerating in front of Budha statue, one woships their own Buddha-like potential in themselves. And everybody will probably tell you a slightly different explanation of this and it basically doesn't matter which is the right one, because nothing has meaning until you give it one.
 So my explanation of Buddhist venerations, which I extracted from all the visits in Buddhist countries and watching the local traditions is that I touch my forehead, my mouth and heart and  then I bow three times and remind myself:
First, that my thoughts, words and feelings serve for the good of all living creations which are able to feel.

Second, that my thoughts, words and feelings serve for the good of my family.

And third, that my thoughts, words and feelings serve for my own good.
I see it as an act of gratefulness and meekness towards life and towards myself and the Buddha statue is here only to remind the perfection which we all carry inside of up when we put aside our ego, desires and lusts. 
The end of cultural note. :)
And then the awaited Balloons above Bagan…
The hot air balloons are typical for Bagan, that's why we got here. Mainly to see them above Bagan, but when we were there, I had to experience the flight itself. :)
I flew with the company Balloons Over Bagan, which flies above Bagan since 1999 and the experienced pilots from around the world are the true masters. The one I was flying with had been flying for 29 years and the takeoff and landing were so smooth and precise because we landed exactly where the breakfast was all ready to be served.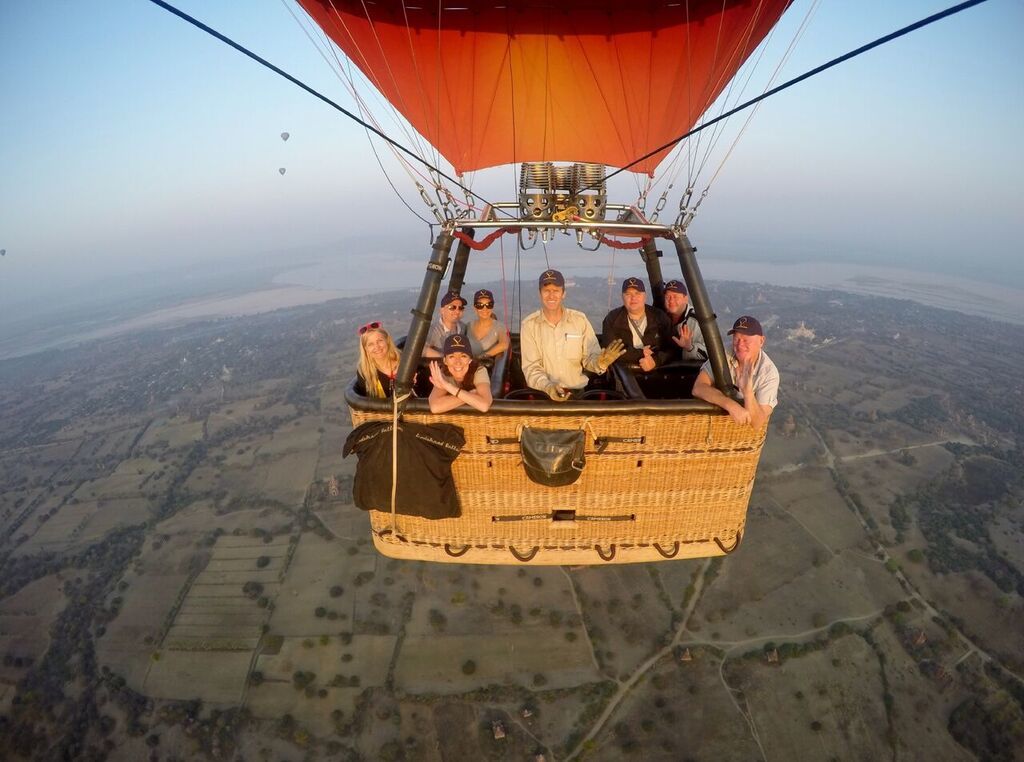 We were riding the bike between Bagan's temples for several days
"Turn right to that temple," I was navigating my husband who was driving us across the dusty roads around Bagan.
We got to that temple and it was shut – to our surprise. But a young boy appeared from somewhere: "Would you like to go inside? I have the keys."
Inaccessible temple and he has the keys… of course, we wanted to get in. :D He pointed the torch to the darkness inside the temple at the majestic Budha statue and startled a family of bats.
Yuri didn't share our fascination about the dark temple, and he had a completely different plan with his tractors, to dig in the sand and dust in front of the temple. "I will look after him," offered the boy with keys.
In the meantime, his sister with very good English appeared and started to explain what we could find in the temple and that her father discovered it twenty years ago and they had lived there ever since. The whole family, five children, in a wooden hut attached to the temple's wall. She walked us through the whole temple, explained the history of the ancient paintings on the walls from the 12th century and everything.
We spent there another hour, Yuri was playing with the kids and then the oldest brother played Masha and The Bear in Russian on his mobile and the youngest ones were watching…
You can live in luxury with windows, central heating and hot water or in a slum shed with no bathroom and windows and watch the same cartoons, films and social networks.
I love meeting the real life on my travels and I am grateful. For where I was born and what life I live. And I honour the people, who keep the smile on their face and their heart open, such as this Burmese family.
Fly over to Ngapali Beach – the west coast of Burma
We didn't know how long we were going to stay in Bagan. We were meant to transfer to Yangon from here and then to the Vietnamese beach island Phu Quoc. But we had changed the plans.
It was about 11 AM, my husband was having breakfast… I was finishing a lesson for our course in the next room and thought I was going to have a quick peak on the flights for one of the following days as we had explored Bagan enough and felt like to move on.
And I realized that there was one flight available to Ngapali – Burmese most accessible beach – in two hours!
And we took ACTION. I was packed within ten minutes, Yirka (my husband) asked at reception to call to the airport to find out if we could purchase the flight tickets right there. And we could. So we jumped in a Taxi and we were standing in front of the aircraft in a couple of hours. And four hours later, we were on the beach… :D.
How do you picture your perfect beach?
I picture it exactly this way… white sand, lined with palm trees, no trash or German tourists crowds, not in wild but with the civilization nearby :) and hot sea with nice people around…
I had discovered it in Barma after all, and it cought me by surprise.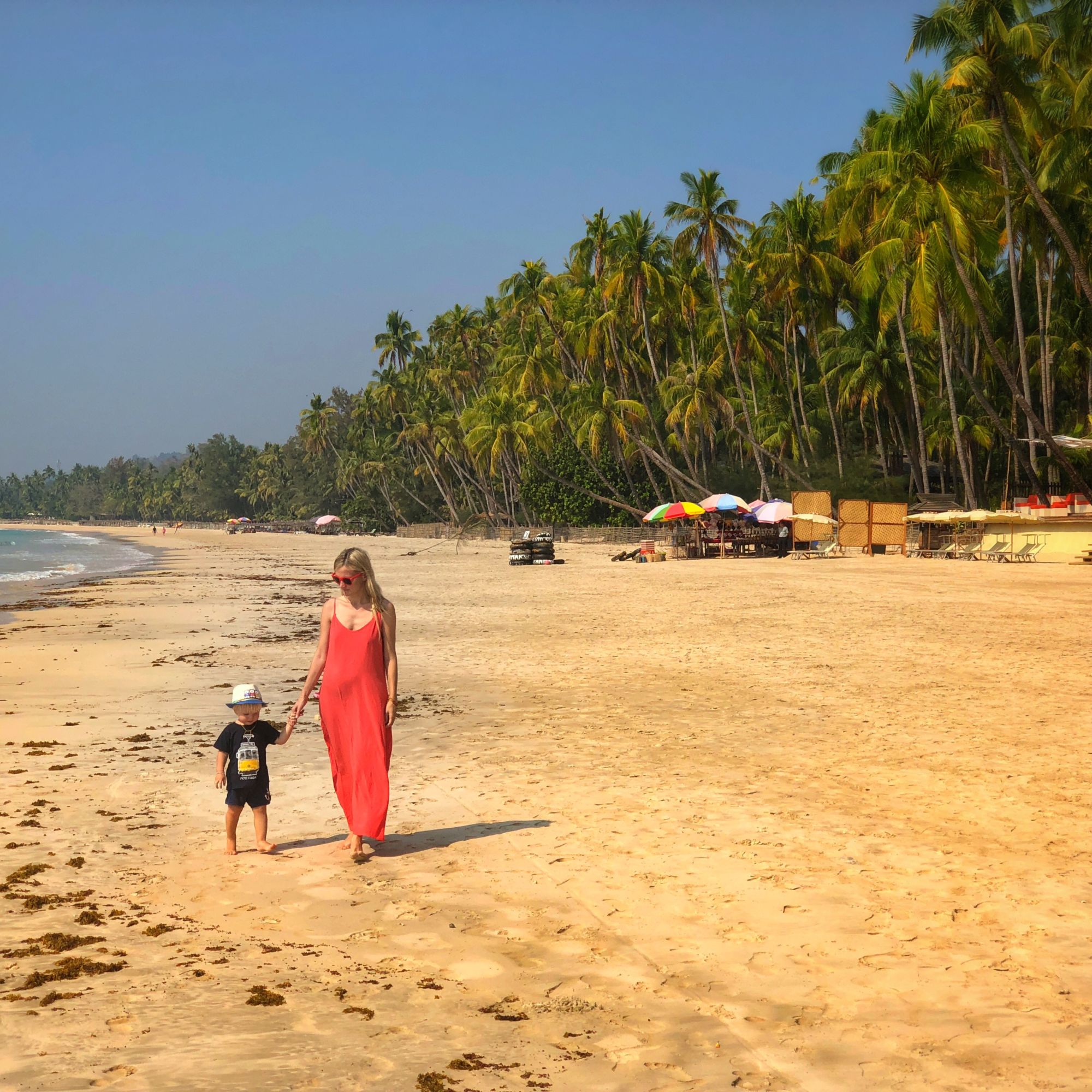 One of the genius things in Barma is that it's only recently opened to tourists and there are new hotels that were finished only a few months ago. Beautiful, luxurious and for quite reasonable money compare to other south Asian tourist destinations.

2. What is it like with safety in Burma
From media, Burma can seem like a not very safe country due to occurring riots. It is true. These riots were happening only a few hundred kilometres northward from us in Arakan State and it was a weird feeling indeed, you watching the sea on the beautiful beach knowing that only a few hundred kilometres away there are people living in fear of somebody burning their village down.
Nevertheless, this is something that Burmese people have to deal with and tourists won't even get into these areas. It is safe in other areas and we didn't feel any danger of harm.
To be honest, I have never felt that safe in Asia. We could leave our things lying on the beach and somebody was even looking after them. We felt safe when communicating with locals and during our transport in cars, taxis, etc.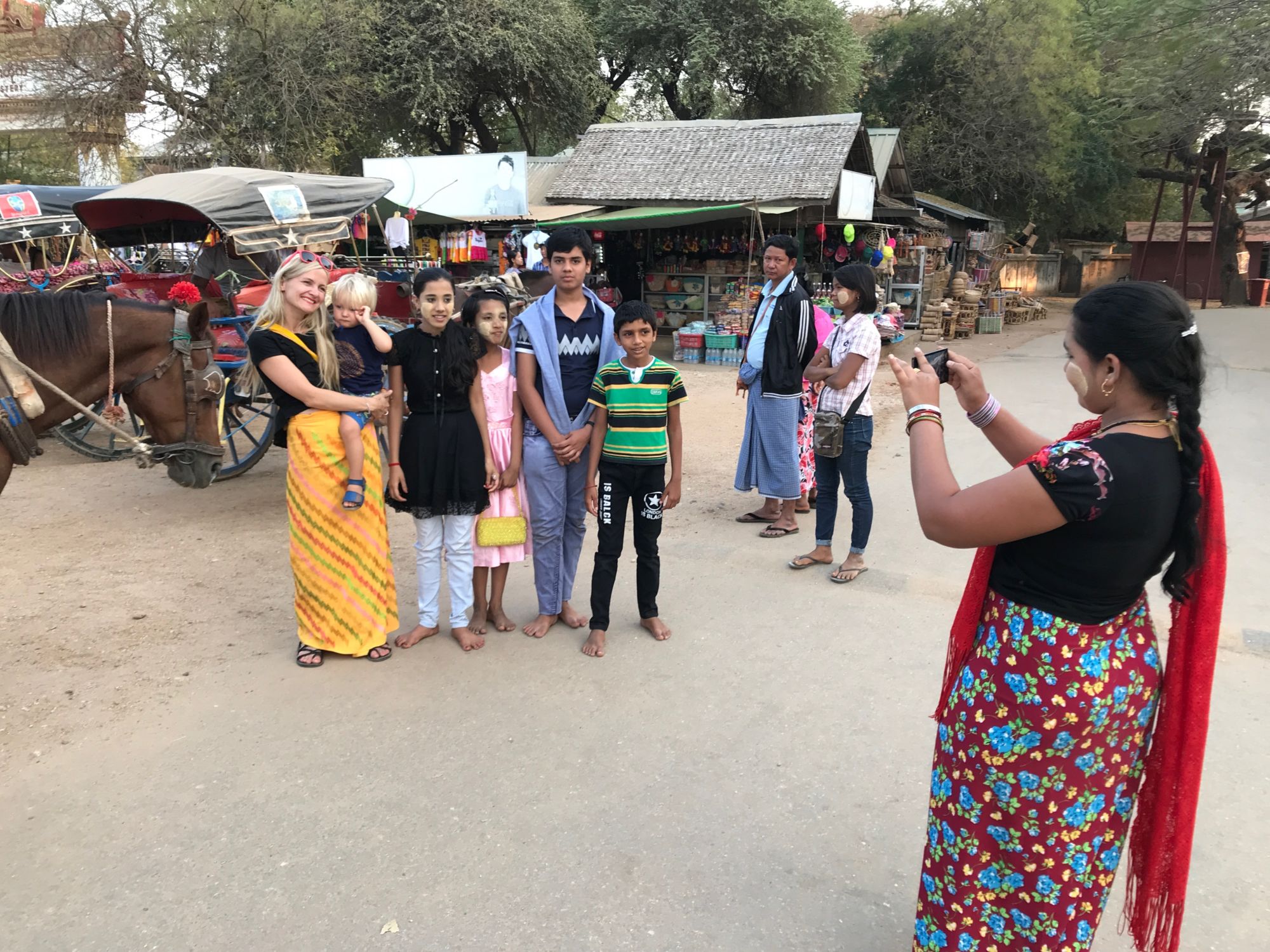 In all the places, we had come across very kind people, which were eager to help in any situation. Nobody was trying to diddle us with the price, to steal our things, and basically, they were all smiling everywhere. Nice people.
I don't want to idealize Burma. You can meet good and bad people everywhere in the Wolrd. But our general impression was good and if I should answer the question whether Burma is safe for tourists, I would say YES.
3. Do I need any vaccinations or a special approach regarding my health? 
As in any third world destination, it is good to keep in mind the basic travel recommendations: drink only packed water (which we were getting for free in the hotels), clean your teeth and wash the fruit with packed water, wash your hands before meals. Unlike in Thailand, we didn't dare to eat the street food and it wasn't really appealing to us either. Regarding the hygiene, it was very similar to any other bordering country.
I know that people often think about vaccination against jaundice, gastric fever, etc. My opinion is that if you don't really go to the places which are not touristic, out of civilization, then it is more likely to get jaundice on a musical festival or on a children's camp, than in Asia.
I am a bit exaggerating now. Deliberately.
There are people like us in Asia. Of course, their immune system and gastrointestinal flora are slightly different, then ours. Nevertheless, you don't immediately get cholera, when you touch local unpacked food.
It is good to use common sense, stick to good hygiene, but don't be overly worried.
BUT… despite all this, it was our first time in several years, that we came across a more serious health issue.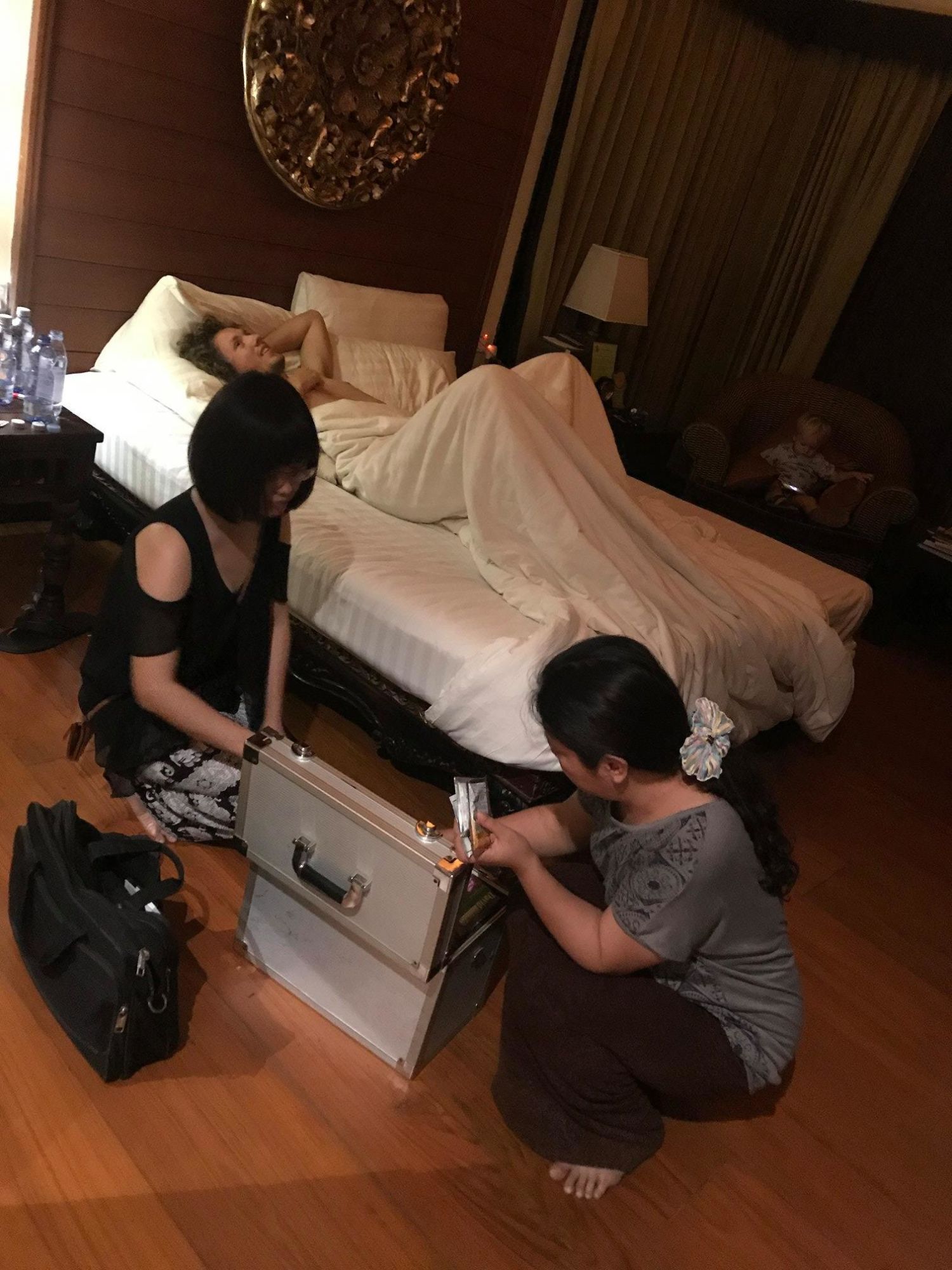 My husband got high fever and he started to feel sick. If we were at home, he would just be in bed four couple of days and we wouldn't pay it too much attention.
But in Asia, we started to slightly panic as proper tourists. Well, I started to slightly panic, Yirka felt so bad that he didn't have the energy for it. I researched information about all fevers, dengue, malaria, typhus, cholera and I figured out he had them all! :D
My husband took Paracetamol, and the fever came down, but despite this, we asked to call the doctor to the hotel, who also took her sister as she was visiting her from Austraila and was a doctor too. So we got an extra care. :D
They slightly smiled at our panicking over the dengue fever and said there wasn't the season, and this was just ordinary flu in the combination with the heat and stuffiness we weren't used to. They gave Yirka rehydration salts and he was fit as a fiddle the following day. :) It cost us 60 USD.
So at least we know there is a medical help accessible even far from the civilization and we memorized all the signs of all existing tropical diseases, which are, by the way, very much like the ordinary flu and viruses we get in our country.
But we are always protecting ourselves from mosquitos
We went to Burma during the drought, that occurs in our winter months, till April. It is hot, so the travelling maybe a bit more challenging. But there very very little mosquitos.
Nevertheless, we were carefully spreading ourselves with repellent, especially in the area of Inle Lake, where the mosquitos were present. And there also were mosquito nets in the hotels. In the case of travelling in the rainy season, I would definitely choose the accommodation based on whether they have a mosquito net above the bed.
Tip
It is good to use local repellents and the ones, which are proven to work by locals. We got a complimentary repellent in some of the hotels. If you don't get it, it is good to ask a local what they use and what works the best for their mosquitos. :)
I also spoke about it with locals and they confirmed that they close windows during the sunset hours, they kill mosquitos with electric bats and they sleep under the mosquito nets.
And if you travel in the period when the mosquitos are active, it is good to walk around covered as much as you can and spread the uncovered parts with repellent during the sunrise and sunset.
You don't need vaccination, because there aren't any for the diseases transmitted by mosquitos anyway.
What do I recommend to pack in your First Aid Kit:
Paracetamol or any other tablets for reducing fever – be careful about Ibuprofen and similar, they are not advised to use for the tropical fever such as Dengue.
Oral rehydration salts – in the case of vomiting or diarrhoea, drink 1 litre per day.
Drugs for diarrhoea – ask in a pharmacy, charcoal doesn't work for the travelling diarrhoeas.
Soluble magnesium – it helps in the case of physical tiredness after physically demanding activities as well as for mineral supplementation in the heat or just as a boost after a busy day. We take it with us everywhere and drink it quite regularly.
Vitamin C – it supports your immunity, we mainly take it before we start our journey, during the journey and when we feel slightly weak, we have a busy program, etc.
Probiotics – it is good to start taking them a week before the journey to Asia, it prepares your gastrointestinal tract for an eventual fight with unexpected visitors :D, this information gave us our paediatrician. We don't always do it, but it's a good tip.
Hand disinfection – we don't always use it as much as we used to, but when we started to travel to Asia, we weren't able to eat without the hand disinfection.
Favourite homoeopathics – if you prefer more gentle medicine and you have experience with homoeopathy, make the list of the ones you could use and buy them beforehand, it is definitely worth packing some for fever, diarrhoea and for aircon colds.
4. Is it a good idea to take children to Burma?
Definitely yes. :) Of course, it depends on how much you are used to travelling, what you expect and what plans you have. We had completed the entire journey around Burma with our two years old son Yuri.
In Bagan, everybody could find something we enjoyed. Our passion was for discovering, Yuri's was for construction… So if you want to know, who had built all these pagodas in Bagan,this is the guy… :D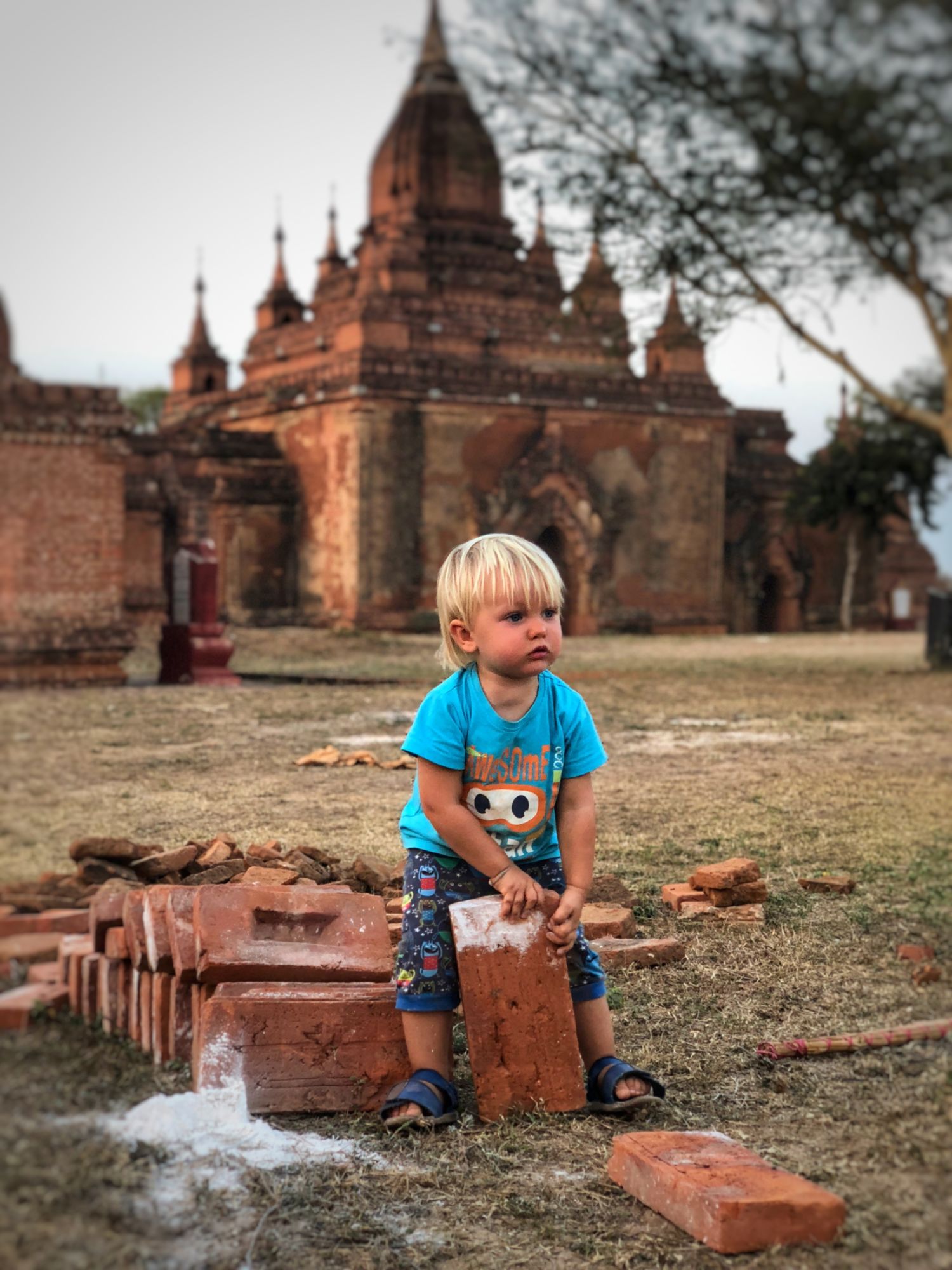 The beaches in Burma were absolutely perfect and Yuri was in his element there. So if you are considering some beach time with your children, Ngapali Beach won't definitely disappoint you.
Tip
Small children will find enteriertainment everywhere. But you need to adjust the pace and program and don't expect to be travelling in the same style with two year old like you used to on your own.

We take into account the lenght of the transports and we always choose the shortest one. At the same time we demand higher quality of cleanliness, accomondation and food quality than if we were travelling alone and we often chose more expensive hotels then backpacker hostels.

At the same time, you need to take into account the programme and always find and entertainment for the child as well. It can often show you completely new horizons too, not just to the child itself. You will be able to read more about travelling with children soon in the second post, which is currently being prepared.
I believe that travelling opens the children new horizons, it enables them learning new things and it is also a wonderful opportunity how to enjoy time together and collect nice memories.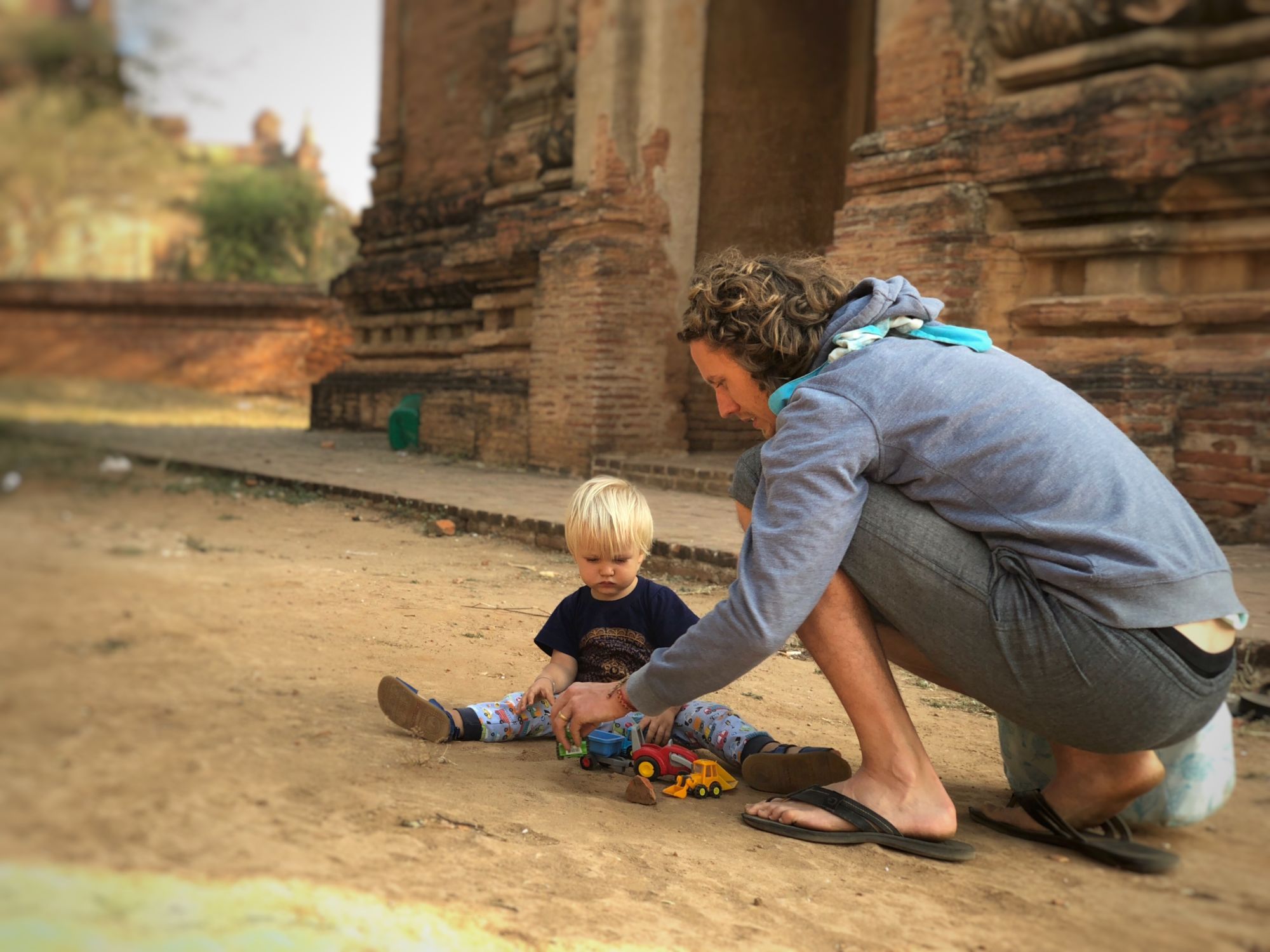 5. The beaches: Burma vs. Thailand
Thailand and Barma are bordering countries, so you may think, what special beaches can be there? The tourism had been in Thailand for the past 25 years, due to the good political situation and kind culture, therefore Thailand is more and more favoured among Czech, Slovakian, German or Russian tourists.
When we were in Thailand this year, we felt like everybody was there or everybody was going there soon.
And this could be something some people don't like. I have to admit, that as an introvert, I prefer empty beaches, peace and quiet. The hundreds of German and Russian tourists were slightly spoiling my impression of Thailand.
And this is the contrast. The tourism is just developing in Barma, and despite us being on the most visited beach – Ngapali Beach, it was basically empty. There were only other four occupied rooms in our hotel. There were many other resorts on the beach, but we still felt the complete tranquillity.
What we haven't explored yet were the beaches on the south tip of Barma. We really liked the nature around the area of Myeik on the photos, but the tourism hasn't reached there quite yet and the accommodation options look according to it, so we decided to leave this part for the next time because of Yuri.
But if you are going to Burma with an adventurous spirit, then this area is definitely worth exploring and it will offer you similar nature as the Thai islands such as Phuket and Phi Phi, with zero tourists!
Is Burma Beach Business friendly? :)
The basic need of beach entrepreneur is the internet connection. At the time we got to Burma, we had already been travelling for two months, and the Czech Beach Business eight-week course was running at the same time, with our other course.
There were over 1200 people enrolled all together in our courses at that time, and that meant everyday care and answering questions, and therefore the need for the internet.
Moreover, we needed to record some new videos and do some photo shoots for our blog. So we were quite busy creating and working between the discovering of the beauties of Barma.
But the beauty of online business is that you can be anywhere in the world and have an office with, for example, this view… And it is only up to you when you are going to work and create and when you are going to do the travelling and discovering.
We bought the local SIM card right at the airport, and 5GB cost us about 8 Euro. The internet connection was good in most of the places and with the good reception and it worked well. Of course, there was a wifi in most of the hotels, with a quite good connection, which even enabled slow video uploading.
And when we ran out of data after a couple of weeks, Yirka went to buy 2GB for 5 Euro to a wooden shed by the road. :) The prices of the internet in Asian countries always make us smile because the internet is really cheap here.
Tip
If you run an online business as we do and you need to be online, I definitely recommend buying a local SIM card, which you can buy immediatly after landing in Yangon, when you enter the arrivals hall.
And regarding video and photo shooting, we had definitely enjoyed empty beaches where nothing was disturbing us and if we needed to record in the time when Yuri wasn't asleep, the locals spontaneously started looking after him and play with him with this tractors. :D Or he was just recording with us.
6. The places we haven't been to which are worth considering
Apart from mentioning the area of Myeik and the archipelago Myeik on the south tip of Burma, there are many places worth visiting where we didn't make it during our 17day trip. If you are going to Burma, I recommend to google the stated places and consider fitting them into your schedule.
One of them is Mandalay city in the middle of Burma. The reason for visiting this place would be the unfinished largest Burmese pagoda Mingun and also the U Bein Bridge – the biggest bridge built from teak wood in the World, which is 1,2 km long.
Close to Bagan, there also is another place worth visiting and it is the sacred mountain Mount Popa, 1518 meters above the sea, with a volcanic origin, where is a golden monastery and it is one of the very important sacred places in Barma.
If you travel for about one hour northward from the Heho airport close to Inle Lake, there is another curiosity, and it is the Pindaya Caves filled with thousands of Buddhas.
The north of Barma is quite appealing too, the area Putao, where there are big mountains – 5 thousanders and one can get into a completely unspoilt nature and culture unaffected by tourism. But it is difficult to get to this area and you need to have permits, and according to the information on the internet, it can take up to a few weeks. But this is one of the places I want to visit one day. :)
7. Do I need visa and where to get it
Yes, you need a visa to Burma – Myanmar. You can apply for the visa online on this page. You will need to fill in your details and scan or take a photo in the passport format. We simply took the photos ourselves on our mobile phone and uploaded them as a picture.
We received the visas the following working day, it was very quick. Our friends, who were travelling to Burma no long before us received their visas within three days.
The visa is valid for three months from the date it was issued and it is valid for the following 28 days after you enter the country.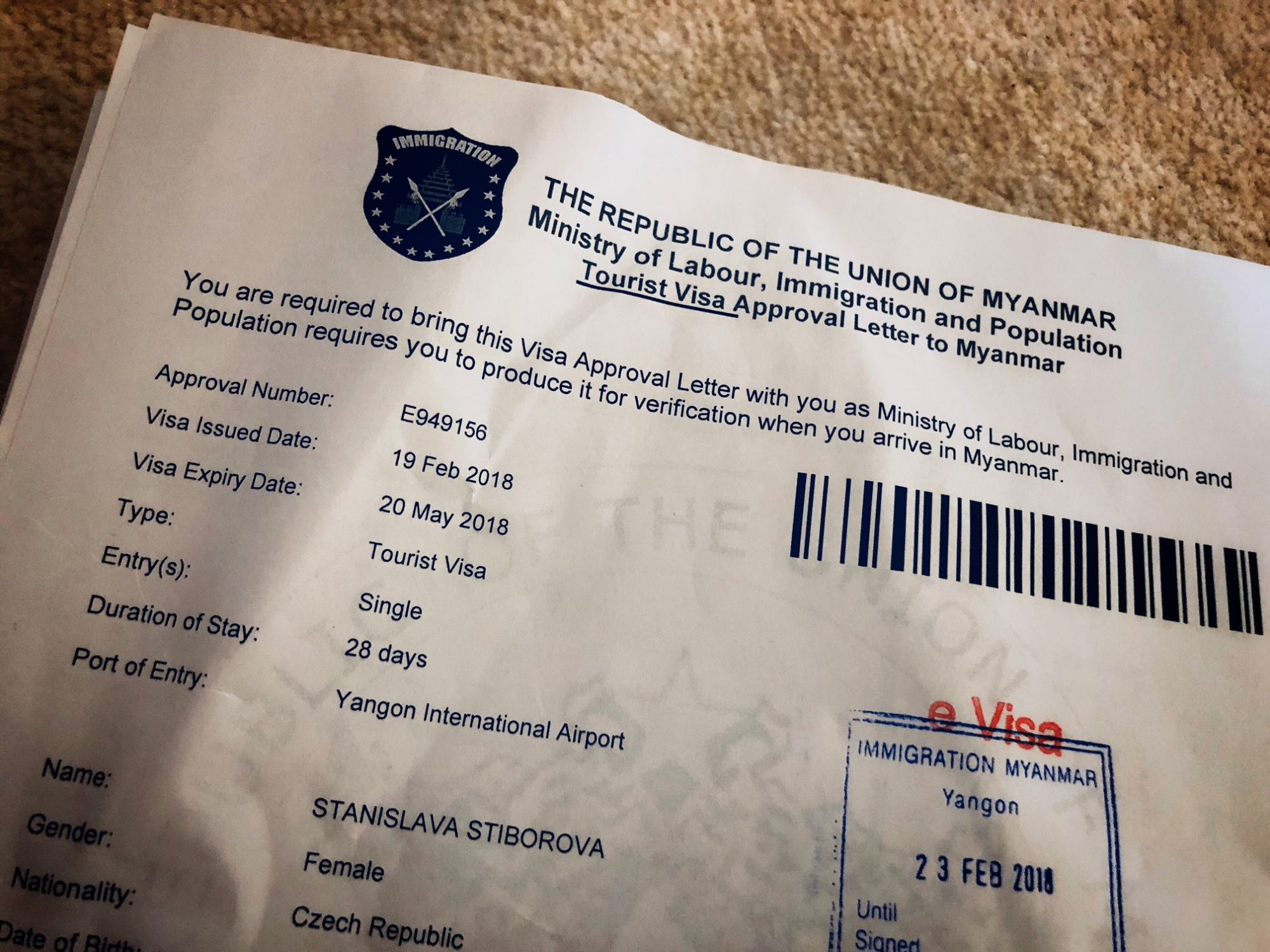 8. How to get to Burma and how to get around
If Burma is your number one and you are flying there from Europe, then you can fly with the ordinary big airlines such are Emirates, Air France, etc.
If Burma is on your schedule while travelling around South Asia, then you have two options. You can either go to Burma by bus from Thailand via a border crossing which is open for tourists, or you can fly.
We flew to Yangon from Singapore. There are also direct flights from Bangkok, Hanoi, Ho Chi Minh City and other big Asian cities, so it is very accessible from this aspect.
Transport around Burma
This depends on your time, standards and budget. We mainly wanted to have the transfers as quick and safe as possible because our little son was with us, so we were using the flying options.
You could get across the whole country in 45 minutes and if you went by bus the same distance would take you 7 hours. And the travelling by bus is not very safe in Burma. Tourists also use the local trains, which probably is an adventure itself. I can't tell. Our friends, who we met in Burma and who travelled mostly by buses weren't too excited about this way of transport there.
Tip
I was buying the flight tickets mainly the day before the departure at www.airkbz.com. The prices were around - 30-80 Euro for an adult, which I consider a wonderful price regarding the comfort and time and I definitely recommend it.
The airports in Burma you can use:
Yangon – the base, international airport;
Heho – to visit Inle Lake (then take the taxi for 20 USD), Pindaya Caves;
Nyaung-U – to visit Bagan (15 minutes on Taxi for 6USD), Mount Popa;
Mandalay – to visit Mandalay, Mingun, U Bein Bridge;
Thandwe – to visit Ngapali Beach;
Myeik – to visit the southern tip of Burma, the archipelago Myeik.
For the domestic flights, you only need to be at the airport 1,5 hours prior the departure, sometimes even less, but I recommend to take any possible travel delay into account. The luggage allowance for the domestic flights is  20 kg.
Bear this in mind, because if you arrive from Europe, you will probably be allowed to have 30 Kg luggage. It is good to spread the weight into your hand-luggage if you get wild with buying souvenirs. :)
In the big cities, you can use the Uber app, which I have already mentioned, and it is definitely good to use this service.
We used taxis for transfer to the hotels. It was usually the only option how to get from the airport, apart from Ngapali beach, where we could use the shuttle bus to Hilton hotel for free and then we could go to have a look inside and it was possible to use tuk-tuk to go somewhere else.
If you want to book a hotel in advance, I always recommend asking beforehand, if they have a shuttle bus or if they can arrange a free transport for you. Be careful – if a hotel offers you a price for transport, it doesn't necessarily have to be a good price. It may be much cheaper to arrange a taxi right at the airport. And you can often bargain even a few thousands of Kyats with the taxi drivers. :)
9. How to find accomodation in Burma if you travel without a travel agent
For our reservations, we mainly used the website Booking.com, where you can find accommodation of every price range and then you can pick what you like.
Tip
We sometimes only choose a certain hotel without booking. And when we get to the area, we go to have a look inside first, what it looks like, if it corresponds with the photos we had seen, if we like it and if it suits our needs and matches our ideas about this hotel. Sometimes we ask the saff to show us the rooms. And then we book it right there.
This was a good way how to find a hotel, for example, in Ngapali Beach, where we had originally found Hilton hotel via Booking.com, but after the arrival, we didn't like it at all, it looked shabby. So we took a taxi and went a bit further to another hotel, which we had found on Booking.com as well – Art of Sand Resort – and after viewing the hotel and the rooms, we were more than happy and stayed there.
My personal wish before you go to Burma
Burma and Burmese people deeply touched our hearts due to their authenticity and the cultural heritage, which isn't yet restricted by any rules and lists of bans.
You don't need to do the sightseeing behind the fences, and share it with thousands of tourists behind your back, like in many other destinations in the World, who experienced this knows what I am talking about.
The picture with balloons above Bagan, which is the cover for this post, was taken early in the morning, and can you guess how many tourists were there at that moment? ZERO.
I know dozens of other wonderful destinations in the World, where I was watching a similar scene with hundreds of people behind my back. So before I started writing this article, I was a bit hesitating for a moment.
What if I make Burma so attractive that this unspoilt paradise full of authenticity and peace will become a tourist destination and the empty beaches won't be empty anymore, and the temples in Bagan will be locked behind bars…? I may have contributed to this now.
At the same time, I believe I am contributing to the local people so we could bring a bit of our abundance we live in to the people who were born in one of the poorest countries in the World and share it with them. 
And we can buy the local products and souvenirs with the feeling that we share our abundance and the financial wealth of our country with people, who opened the richness of their culture to us.
(By the way, if you don't understand now, what wealth I am talking about and you feel like you have no wealth, just to compare – the average income in Burma is 100 USD per month.
I believe that if this country and its cultural heritage stood up to dozens of years of military dictatorship and colonialism, it can manage the dozens of years of tourism. :) 
And I wish that Burma soon overcomes the last attempts of riots and political instability and preserves its authenticity, rich cultural heritage and nice people.