A beautiful holiday resort, which is washed from one side by the Indian Ocean and from the other side is protected by the massive Le Morne, an icon of Mauritius. Thousands of people come here to relax and enjoy their holidays or romantic honeymoon.
Every morning they lie down by the pool and in the afternoon they take a pleasant glass bottom boat trip or snorkel around the coral cliff. In the evening, they enjoy a delicious meal in one of the seven restaurants, that are part of the resort.
While enjoying their moment they can see two young people, who thanks to showing their marriage certificate got 30% discount and are pretending to be on a honeymoon as they got married recently.
But instead of that, morning by morning, they go through the gardens towards the beach, dragging huge bags full of recording technology looking for the perfect scene for shooting videos. Those two weirdos are my husband and I, and in this beautiful destination, we are working hard on our business. :) Watch this 'behind the scenes' video (2 minutes).
Beach business is going out to the World
After the June private retreat in Tuscany with Jack Canfield, his team and another 20 successful entrepreneurs and authors, we decided that it's time to send the Beach Business to the World and translate it to English.
Jack and other people there told us that what we do is great, inspiring, and many of them asked, when will the Beach Business Online Course be ready in English.
So here we are.
We have chosen Mauritius for several reasons:
It's a gorgeous tropical island with many iconic scenes that were perfectly suitable for the shots.
A little time shift – only 2 hours, thanks to which we don't need a long acclimatization, and we can dive right into the creating and recording.
A safe environment for our one and half-year-old Yuri and grandma, who is babysitting while we are shooting videos.
Pleasant weather of local "winter", temperatures around 25°C, no mosquitos, snakes or dense tropical air.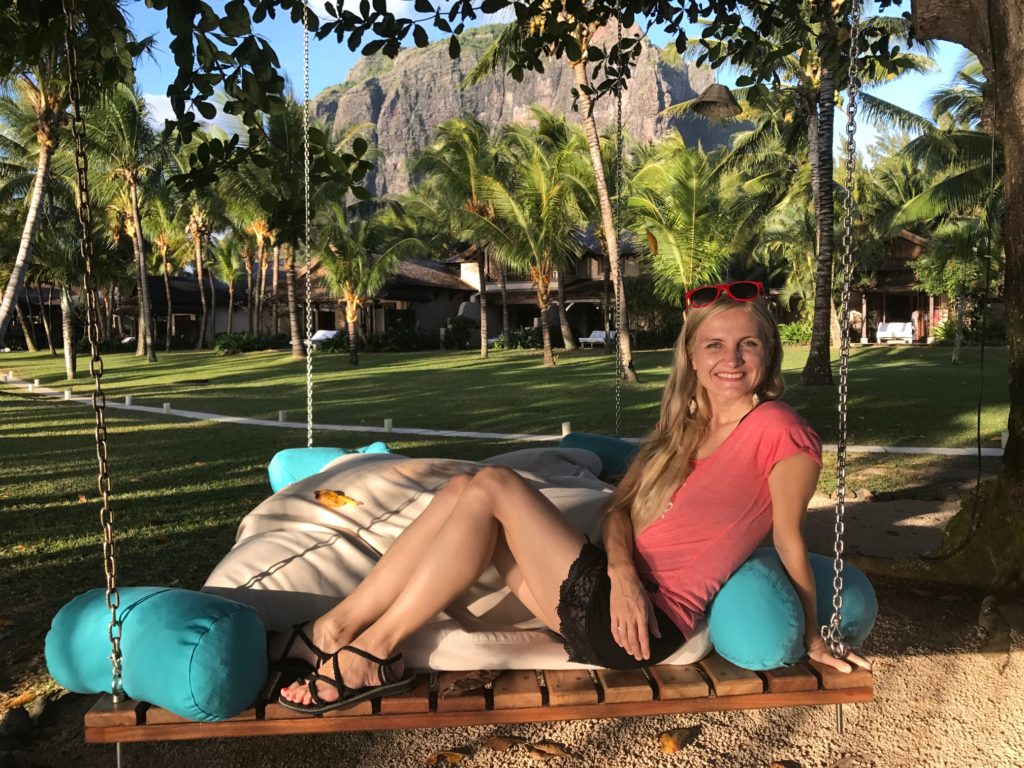 To shoot videos outdoors is the most difficult discipline for online entrepreneurs
Shooting videos itself is quite a challenge and requires training and experience. You need; good equipment, good sound, good light, and a well-prepared speech.
Recording outdoors and in addition, close to the beach brings more challenges, such as:
Sharp sun
Strong wind
Noise and other people walking around
Helicopters flying over and humming boats
Many other things, you wouldn't have thought of before.
Suddenly, you start hearing every little noise and even when chilling out (in the back of your head) you judge if the light is good and the conditions are suitable for recording. :D
The microphone is a great thing, and with a foam cover, it eliminates most of the noise and thanks to portable lights we have many possibilities for shooting videos anywhere.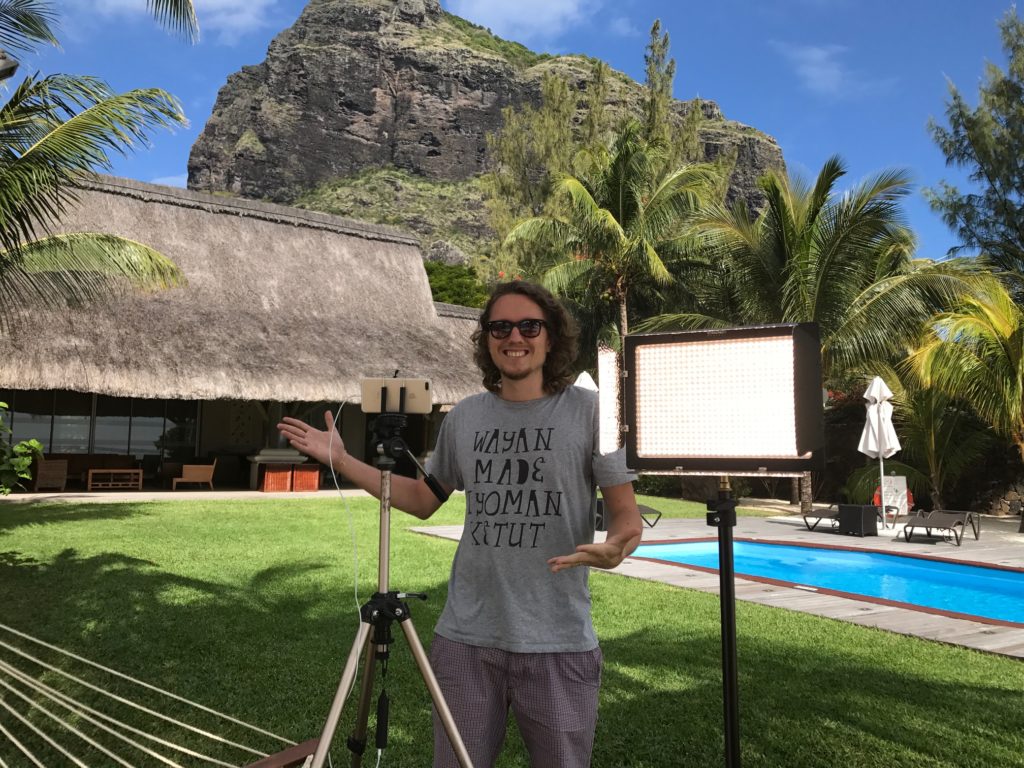 Our beginning was challenging
While shooting the Czech version of Beach Business Online Course back in February 2015 in Bali, nature had given us some trouble. We didn't have the portable lights for lighting the scenes so we could only be shooting videos while the sun was hidden behind the clouds or just before the sunset in the early evening.
To add, motorbikes were passing all the time. We had set up the scene and workers started banging the nails on the neighbour's roof! We had moments when we thought whole of Bali was conspiring against us! We were transferring to the place of recording for an hour, preparing the scene, ourselves, texts… and then it started raining.
But we managed even then.
Now we have several courses already recorded behind us and many other videos that we post on our blog and Facebook Beach Business for free – we are more experienced and better equipped.
Making videos has become a joy. You can play with the scenes and light them as you like. I have already shot so many videos, that most of them in Czech language I usually manage to do it on the first attempt in a good "flow".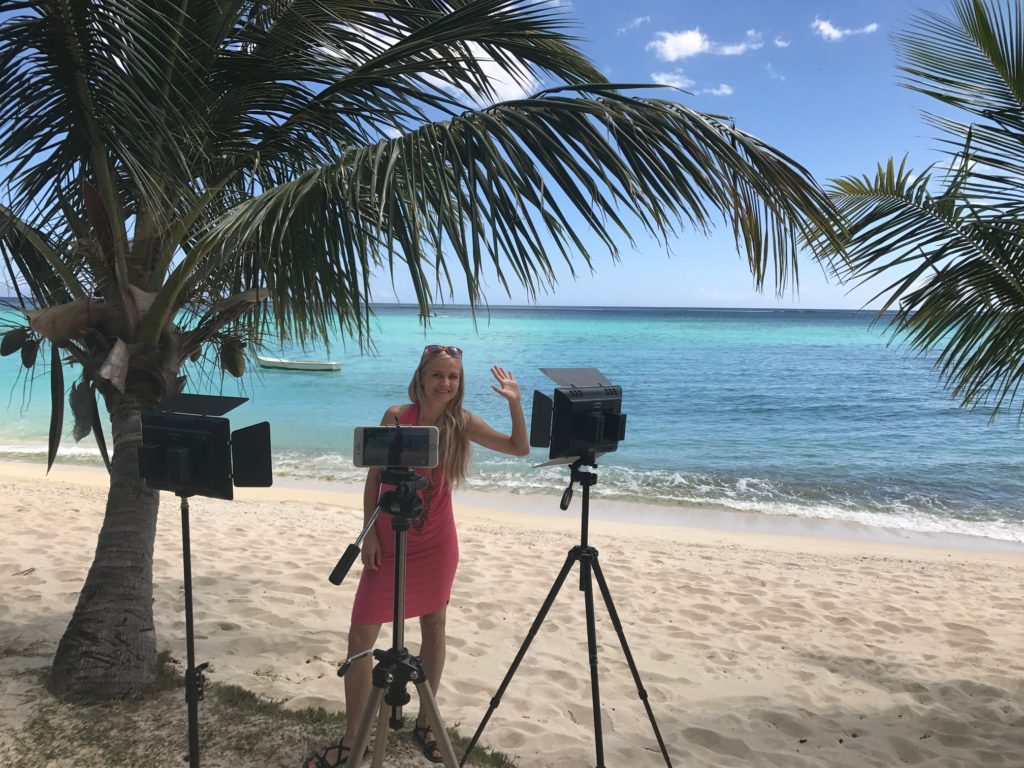 A new big challenge –  English
To shoot videos in my native language was at the beginning of 2015 a real challenge and I cried several times. My speech seemed terrible to me, I just couldn't do it! I was getting stuck, and I couldn't watch myself afterwards.
Simply not good enough in any aspect. And it often looked like this: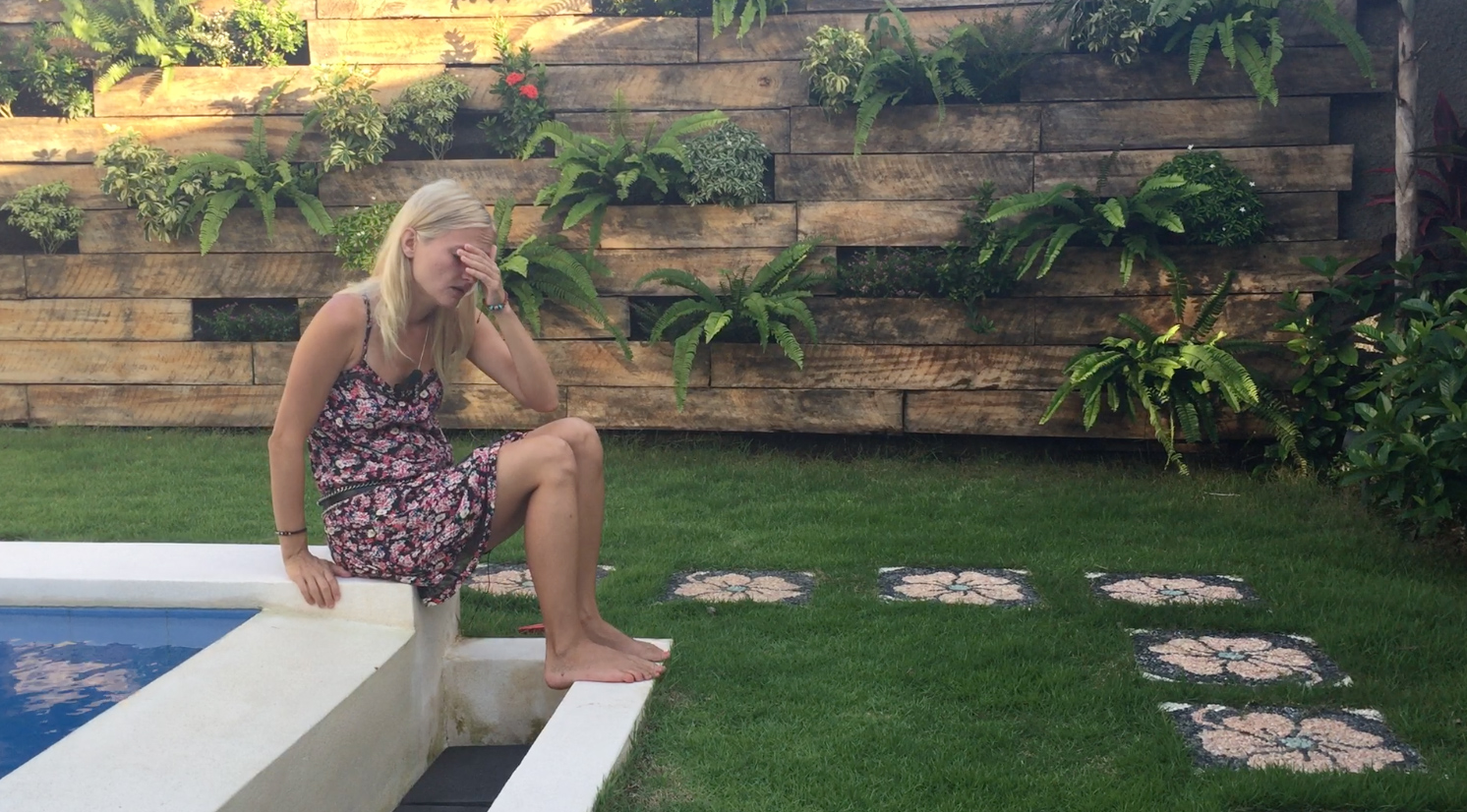 Before we decided to create the course, I was talking about it a lot with my husband.  I was telling him, "I will create the course, but there will be NO VIDEOS! I can't do them!"
My husband smiled and bought me an iPad, where he installed a prompter and softly manipulated me to start recording. :D
I tried over and over, and now I feel really confident in it.
AHA MOMENT #1:
"Every master was once a disaster "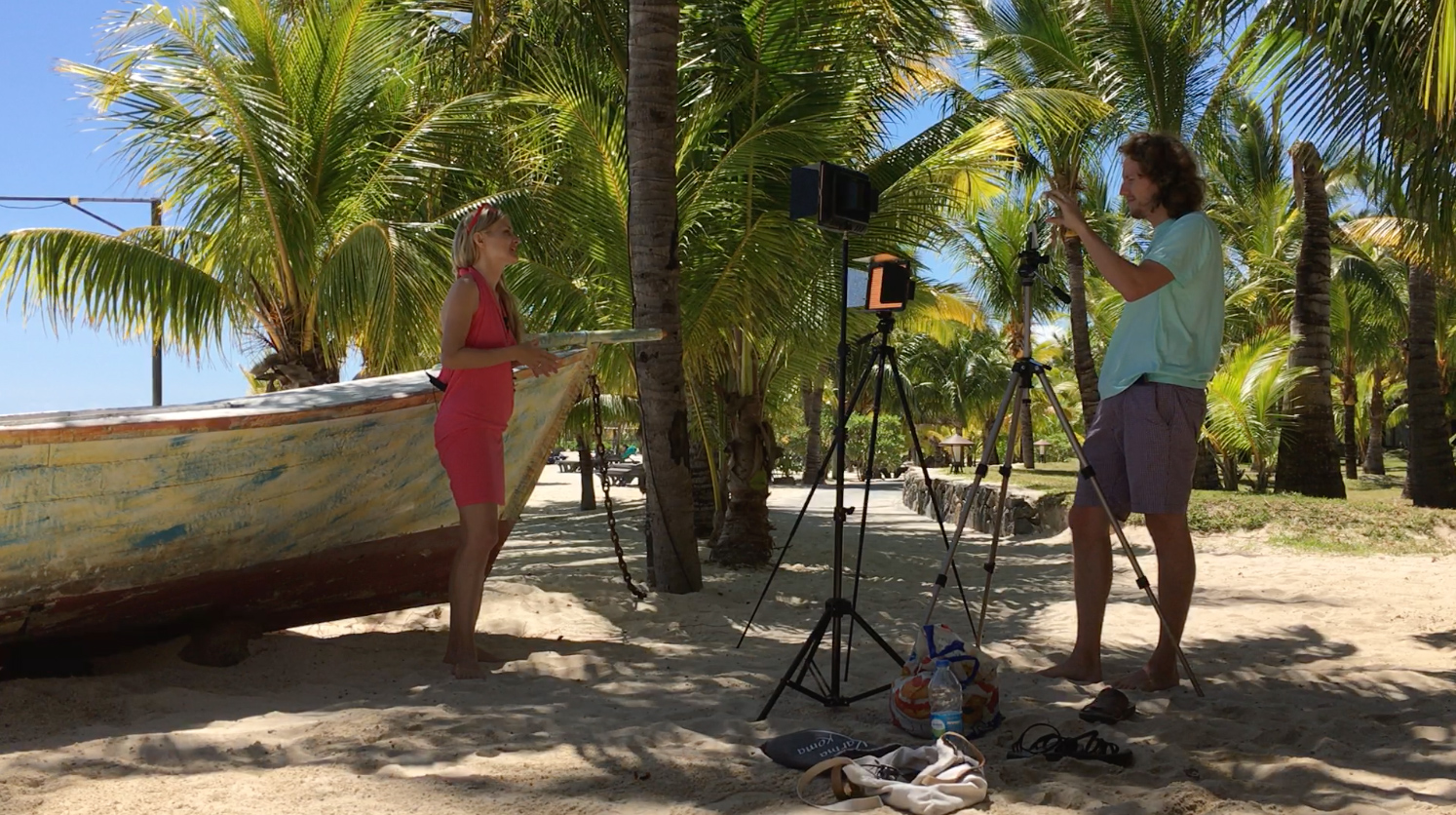 I can speak English, I understand everything, and I can communicate if I need to, but my English is scruffy, and my accent certainly doesn't resemble a native speaker. I really have many imperfections.
The texts were translated by our beach translator Martina, and even though I was worried about many things at first, I didn't stress out unnecessarily and got myself going. The first day was truly awful. I sometimes felt like I was saying tongue twisters because my tongue wasn't used to such an English load in one go.
However, it went better and better every day, and I started to feel more and more confident. Of course, the stupid accent is still there. And yes, I pronounce some words wrong – so what?
If I wanted to wait until it's perfect, I would have probably waited forever.
AHA MOMENT #2:
"Imperfect SOMETHING is better than perfect NOTHING."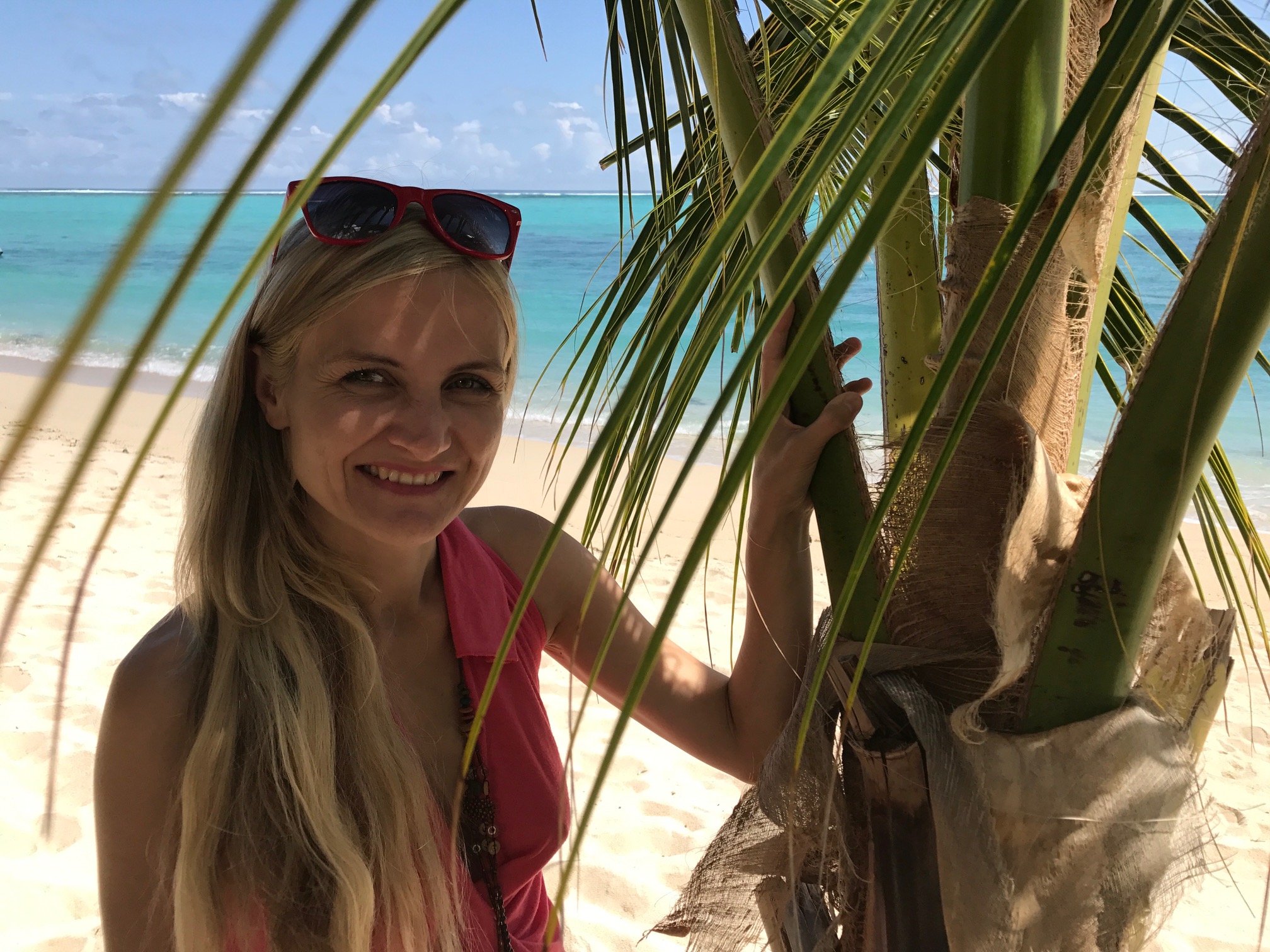 Our clients for the English version of Beach Business are going to be mostly people from Europe – often non-native speakers, so I believe they will forgive me for the non-native accent because the content is really worth it and will be beneficial for them.
I am grateful that I have overcome my other big barrier. Even a few months ago, I was saying that I was never going to do an English version of Beach Business because:
I don't have the capacity.
My English is not so good.
I don't really want to, as I don't have the need.
AHA MOMENT #3:
"You either have EXCUSES, or you have RESULTS."
I don't have the capacity, so I have extended the team with two women that started to help us vastly with the Beach Business project. My English is not so good, so one of them is a professional translator. I didn't feel like it. Yes, I honestly didn't feel like it, I felt used, and slightly burnt out. But it could be a topic for another blog post. And I am grateful that I have also overcome this barrier.
And how will the Beach Business be doing in the big World? I believe it will do fantastic. I am looking forward to it!
To wake up in the morning knowing that from this day on for the rest of your life you will only do what you enjoy and what is fulfilling, that's the reward. The reward for several months or years consistently day by day, building and loving your business.
AHA MOMENT #4 in this video: